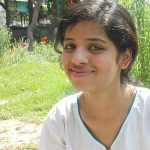 Iqra is driven by the power of perseverance, conscientiousness and good listening skills.
She did her schooling from Mater Dei School, New Delhi, followed by graduation in English Honours from Shri Aurobindo College, Delhi University and thereafter, pursued B.ed from MDU. With each passing day, Iqra works enthusiastically to know more about herself. She has spent most of her time in knowing individual stories through books and meeting anonymous people.
She loves to try her hand on playing the mouth organ. Since her graduation years, her interests have been inclined towards the development sector. This is what brings her to this organization; her second workspace; Dhriiti.
With Dhriiti, it has altogether been a special journey and it continues to be one. Her stereotypes regarding working under supervisors and organizations were all proved wrong, here at Dhriiti. She personally adores Dhriiti's culture where work is fun. She is currently a part of Project Beautypreneur where her role is to closely work with the women and girls in Delhi and identify prospective beautypreneurs, along with their training and support at different levels.
Iqra believes,
Life is a climb, but the view is great.
Iqra can be reached at iqra.khan@dhriiti.com