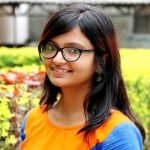 Poonam excels in her life by living up to 3 words: Optimism, Passion & Persistence.
She did her MBA in Finance and Marketing from Tezpur Central University. She always wanted to significantly contribute to the development of the country and hence, she decided to work for social development sector. She ventured out on her new journey as a fellow under "India Fellow Social Leadership Program". Before the fellowship, she worked as an Asst. Professor of Accounts and Finance at St. Xavier's College, Tezpur for one year.
Poonam joined Dhriiti in August, 2016 as an "India Fellow". Here, she works as an Anchor for the INCUBATE program, where she co-ordinates with the incubatees and serves as a source of knowledge to support them with research. She also looks after Dhriiti's website and organizes sessions for internal capacity building. She loves to write, travel new places and explore new things in life.
For Poonam:
Life is all about exploring and learning new things.
Poonam can be reached at poonam.barhoi@dhriiti.com