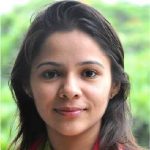 Unnati Narang, then 18-year-old, came to Dhriiti with the goals that she had chosen for herself, already breaking away from family traditions and dreams that already reached great heights in her mind. Trained with us in Entrepreneurs of Tomorrow – 2007, Unnati went on to self-publish her collection of poems – 'Drenched Soul – When Your Roads Choose You' (available at www.lulu.com). Given her passion in cooking, Unnati ran a business on home-based cakes and muffins creating a huge base of customers. Eventually, it was her music shop 440 Hertz through which she brought together her entrepreneurial dream and her penchant for music.
"Dhriiti is an amazing channel for change for youngsters – existing and potential entrepreneurs!" says, Unnati, who also managed Dhriiti's publication for a while.
Unnati currently works as the Director of Marketing at the Institute of Personal Leadership set up by a Columbia Business School professor. She also plans to impart entrepreneurship/leadership education through mentorship or formal teaching.