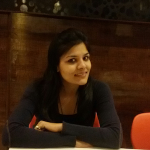 Naina is an enthusiast and a passion driven believer who leaves no stone unturned to achieve her goals.
Born and brought up in the historic town of Panipat, Naina has a knack for sports and her Blue belt in Taekwondo speaks for it. She has won many accolades to her credit in Basketball and Taekwondo. Also a dancing enthusiast, she makes sure that everyone around her is happy.
She completed her graduation in Business Studies from Punjab University in 2011 after which she joined the Entrepreneurship Development Institute of India (EDII), Ahmedabad for her Post-Graduation in Business Entrepreneurship. Though working for women has always been on her mind, she first got the taste of the development sector when she became a Jagriti Yatri in 2013. In further pursuit of her dreams, in 2015, she joined the India Fellow Social Leadership Program for a year under which she worked in Menstrual Hygiene Management & Women Empowerment with Aakar Innovations.
She joined Dhriiti as a Program Manager of the Beauty-Preneur project and looks after its operations and monitors the progress of the project. She also assists in capacity building of the Project Officers.
For her:
"Life is all about People".
It is one quote that keeps her going.
Naina can be reached at naina.kansal@dhriiti.com