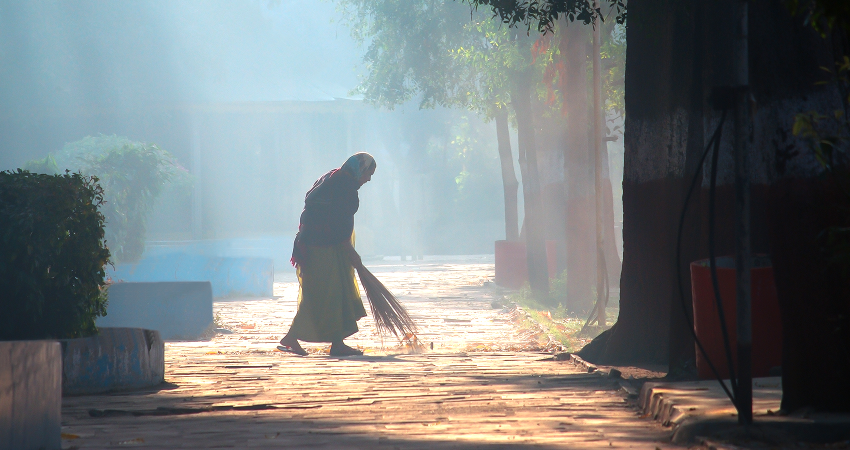 Ever wondered how and where, one of the most essential cleaning equipment in all Indian households, the broomstick, is made? These were a few questions that intrigued me to discover an entrepreneurial potential in Meghalaya in the North-east of India. And at once I decided to travel to the picturesque state with vast expanse of broom grass plantations.
Where?
Meghalaya is home to a population of 2,306,069 inhabitants (census 2001) with about 5780 villages. The people in Meghalaya find their source of livelihood in agriculture and allied activities. The broom plant is a major forest-based resource for the farmers here and is distributed widely throughout the state of Meghalaya. It is commonly found on the hills, damp steep banks along ravines and on sandy banks of the rivers.
Set in a hilly landscape, Meghalaya is divided into 7 districts – East Khasi Hills, West Khasi Hills, East Garo Hills, West Garo Hills, South Garo Hills, Ri Bhoi, and Jaintia Hills. The biggest advantage for the farmers in Meghalaya is the cultivation of broom-grass which is easy and requires less financial investment.
How?
The broom grass can be grown even on marginal lands, wastelands and jhum fallow. Its cultivation can promote the sustainable use of fragile and degraded lands. It grows well on a wide range of soils varying from sandy loam to clay loam. The planting can be done by seeds or rhizomes. Some people also collect and transplant the wild seedlings for propagation. However, it is considered better to get quality seedlings from reputed nurseries.
The culms arise centrifugally during the peak growing season (April to July) and bear inflorescence (panicle) on shoot apex at the end of vegetative growth. The inflorescence that is about 30 to 90 cm long resembles a fox-tail and is used as broom. And this is sold as broomsticks!
Trade & retail
However, more than the botanical bit, what I really wanted to know was how the brooms ultimately reach its users. Do traders go to Meghalaya and buy it from farmers? What is the mechanism involved? How is the pricing done? With the rest of the economy, has this industry also grown by leaps and bounds? What is the life of people involved in this trade like? Is there an entrepreneurial spirit within them that constantly pushes them towards the better?
I got in touch with Bhaskar who runs 'The Bhaskar Broom Company – Bamfoi', about 50 km away from Guwahati. "Our Company collects brooms and takes them to Guwahati. There we sell them to the traders. After that it is those traders who supply it to the end users." He also mentioned how the market for brooms is largely confined to northern India, mostly cities like Delhi, Mumbai and Kolkata.
Broom grass grown in the hills is made available to traders in a nursery at Karbi Anglong district of Assam, which are sent to Guwahati by small companies. Usually traders purchase the produce only between February-April. A bundle of 1 kilogram of broomsticks contains about 3-4 sticks and costs Rs.20-22. In the off season, the same is sold for Rs.30-40. To the small and marginalized farmers broom cultivation is an economic activity that sustains their seasonal livelihoods.
Marketing broom grass is easy since Meghalaya offers a vast linkage of all the villages to the wider regional or national market through their local market.  In the months of December, January and February these local markets are flooded with broom sticks and the middlemen are the potential buyers.  Earlier there used to be no fixed price and it was dependent completely on the price quoted by the middlemen. Now that the market has developed, a stronger framework is used.
"We take the grass from here and get them tied into brooms in Shillong. After that they go to households all over the country" says, a trader. Thus, value-addition of binding tufts of broomstick into an easily usable broom for sweeping floors and dusting ceilings, etc happens elsewhere.
Leading to national growth
Activities such as cultivation of broom grass on a large scale, if promoted not only help in regional development and providing employment but also contribute to the national growth on the whole. Although the cultivation of Thysanolaena maxima (broom grass) is largely unorganized, it grows in the wild on the hillsides, traders confidently make the sweeping statement that Meghalaya is easily the jharu capital of India. Agrees P.S. Nongbri, a Shillong-based forest officer who had prepared a report in 1995 on broomstick production and how it could be improved.
Mizoram Forest Produce Marketing Agency (MIFMA) purchases broomsticks at Vairengte on the Mizoram-Assam border are in turn sold to Shree Shyam Trading Company, New Delhi and the North East Regional Marketing Corporation, Govt. of India Enterprise, Guwahati.
According to MIFMA, Rs.3 crores have already been used to purchase these broomsticks and some families have received incomes of up to Rs.3 lakhs from their sales.
Apart from the MIFMA, the major change that took place happened after the Meghalaya Forest Department took these brooms to international trade fairs – a trade fair in Delhi in 1994 received an overwhelming response! Country-wide enquiries came along and by the following year, the price of a quintal of broom grass shot up from Rs.1,100-Rs.3,000. Even though the middlemen take a huge part of this revenue, they get about 60% of the price even which fetches the average household Rs.6,000-Rs.7,000 a year as additional income. The Meghalaya government decided to promote the plantation of broom grass in 1995. The scheme, from all accounts, has met with great success.
Efforts from NABARD
Even on the banking and finance front, there have been commendable efforts. For instance, The National Bank for Agriculture & Rural Development (NABARD), the Apex level National Bank in the field of Agriculture & Rural Development established on 12 July 1982 announced some favourable policy initiatives for the North-East India especially Mizoram.
It went one step further with its SHG (Self-help group) linkage programme which involves linking such groups to the formal banking system by sanctioning Rs.10.90 lakh to NGOs and banks for promotion and credit linking of more number of SHGs in the days to come. 9 Farmers Clubs have so far been formed and assisted with active participation of NGOs and bankers in the State. Further, grant assistance aggregating to Rs.8.81 lakh was provided to various NGOs for conduct of 15 Skill Development Programmes in various activities. These included broom processing and broom-making in addition to other trades like candle-making, tailoring, jam & pickle making, jute & handicraft, bamboo basket weaving, etc. These programmes have benefited 393 participants to provide self-employment.
The farmers of the North-east, the traders and the middlemen are part of an industry that poses a huge business opportunity. It continues to define the lives of a large segment of India, as they learn to recognize its benefits not only for themselves and their customers, but for the environment as well.
Read Blog Detail