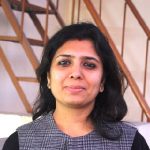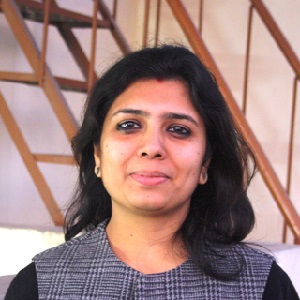 Curious, Determined and Organised, Nidhi- the forbearer of Dhriiti leads the organisation.
Nidhi graduated in Commerce from Lady Shri Ram College, University of Delhi in 2001 and went on to do her Business Management with specialization in Finance & HR from Xavier Institute of Management, Bhubaneshwar, India. After working briefly with GE India in their Financial Management Programme and in the social sector with Dastkar, she co-founded 'Dhriiti-The Courage Within' with Anirban Gupta and Arindam Dasgupta. She lives in New Delhi with her husband Anirban and her 5 year old daughter Anavi. She is currently enjoying her twin roles as mom-homemaker and an organization leader.
At Dhriiti, she was the former Director of the Entrepreneurship Development Cell (EDC) in which she developed various programs to work with young people including the Entrepreneurs of Tomorrow Program. Nidhi has an experience of over 12 years in entrepreneurship training and has a crucial expertise in systems development and their implementation. She also specializes in developing content for entrepreneurship trainings with innovative teaching methodologies. She is certified by Hewlett Packard(HP) to conduct the STSB (Smart Technologies for Smarter Businesses) curriculum & GET-IT(Graduate Entrepreneurship Training through IT) developed by HP & MEA-I. She has headed consultancy assignments on entrepreneurship and enterprise development for Nasscom Foundation, GE Money, International Centre for Research on Women, National AIDS Control Organization, etc. She is on the advisor board of the Liberal Youth Forum guiding the organization on its Campus Pulse Program and of the Entrepreneurship Skills Program of Room to Read .Nidhi has been awarded the Changelooms Award and the Paragon Fellowship for co-founding Dhriiti. She is a Cordes Fellow and attended the Opportunity Collaboration at Mexico in 2015.
In order to keep this spirit alive and to motivate others, Nidhi quotes Robert Frost-
The woods are lovely, dark and deep,
But I have promises to keep,
And miles to go before I sleep
Nidhi can be reached at nidhi.arora@dhriiti.com