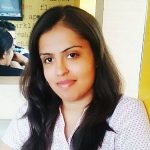 Ishita trained with us in our Entrepreneurs of Tomorrow, 2010 seeing it as "a great opportunity to try out new things and ideas and acquire skills that would benefit me no matter what I do."
In her words, "Dhriiti is a laudable endeavor to encourage the youth to experiment, innovate and explore the field of entrepreneurship. It boosts their creativity, instills confidence, and pushes them to take risks." She lived up to her beliefs, overcoming personal challenges when she succeeded in running  a home-based enterprise of homemade chocolates.
Her interests revolve around development economics and public policy. She is currently pursuing her Masters in Economics from Delhi School of Economics.