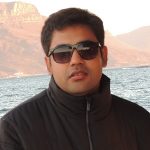 Kartik was a member of an entrepreneurship club set up at Ramjas's RK Puram branch in 2005. Inspired by our entrepreneurship skills training, he continued his engagement with us through our Launchpad Café workshops.
He reminisces fondly the car wash day which was set up as an enterprise under the entrepreneurship club. Dhriiti has inspired him to the spirit of running an enterprise and he plans to launch his coffee shop with a small design unit, where he could rent out desks to freelancers.
Currently, he is working as an assistant Art Editor with Dorling Kindersely and also as a freelancer with Geetanjali Salons helping them in their design work.