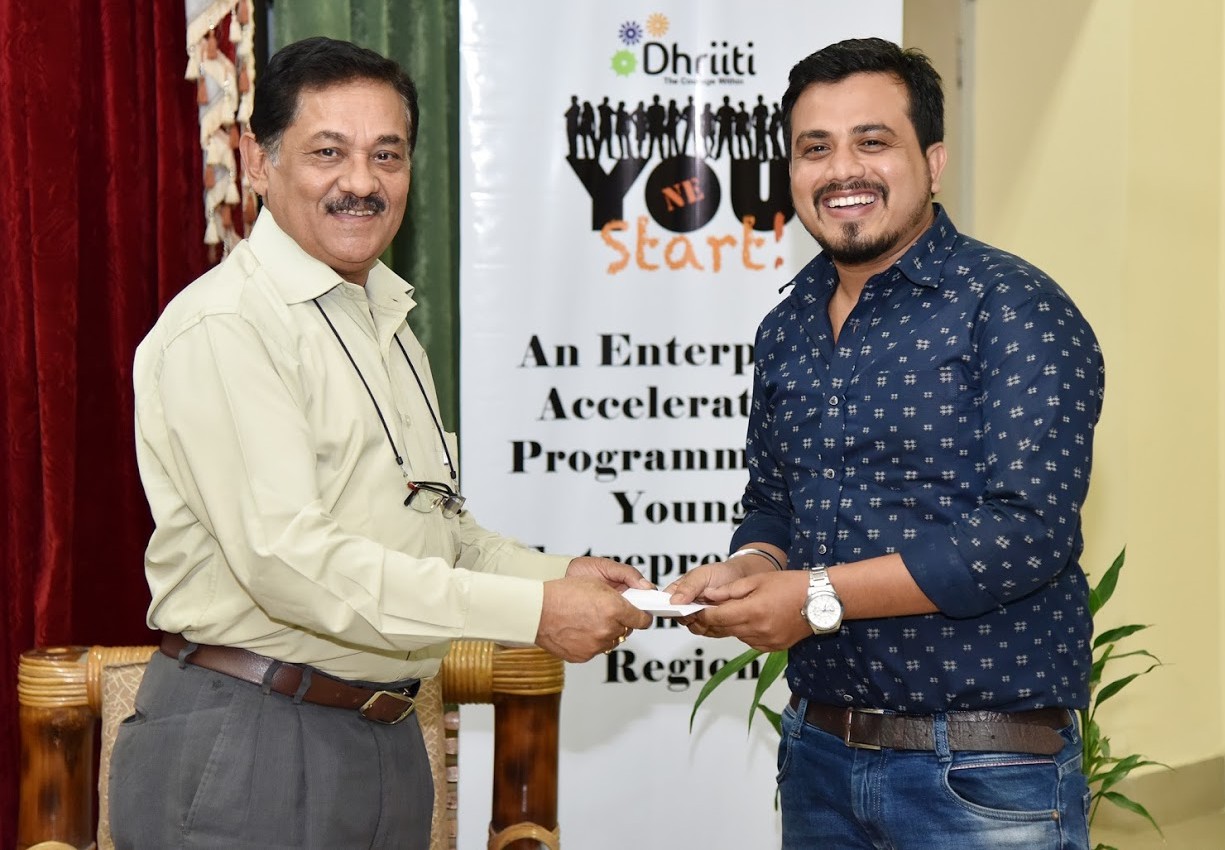 YOU Start! NE – Enterprise Acceleration Programme for Youth Entrepreneurs – is an initiative dedicated to promoting youth entrepreneurship in North East India. After receiving approximately 100 application from states covering Assam, Meghalaya, Mizoram, Nagaland, Tripura and Manipur, we shortlisted and trained 52 young entrepreneurs from this region in 3 different cities i.e. Shillong, Guwahati and Dimapur. This was followed by mentoring support to each of the trained entrepreneur to enable them to develop robust enterprise plans, providing them with a solid foundation to sustain and grow their enterprises. 11 entrepreneurs were selected after the Ist round of Business Plan competition. This was followed by 12 weeks of mentoring support to accelerate their businesses. We are gearing up for the final event where 8 young entrepreneurs will be competing. The competition will be two segments one which is online voting and second is business pitches.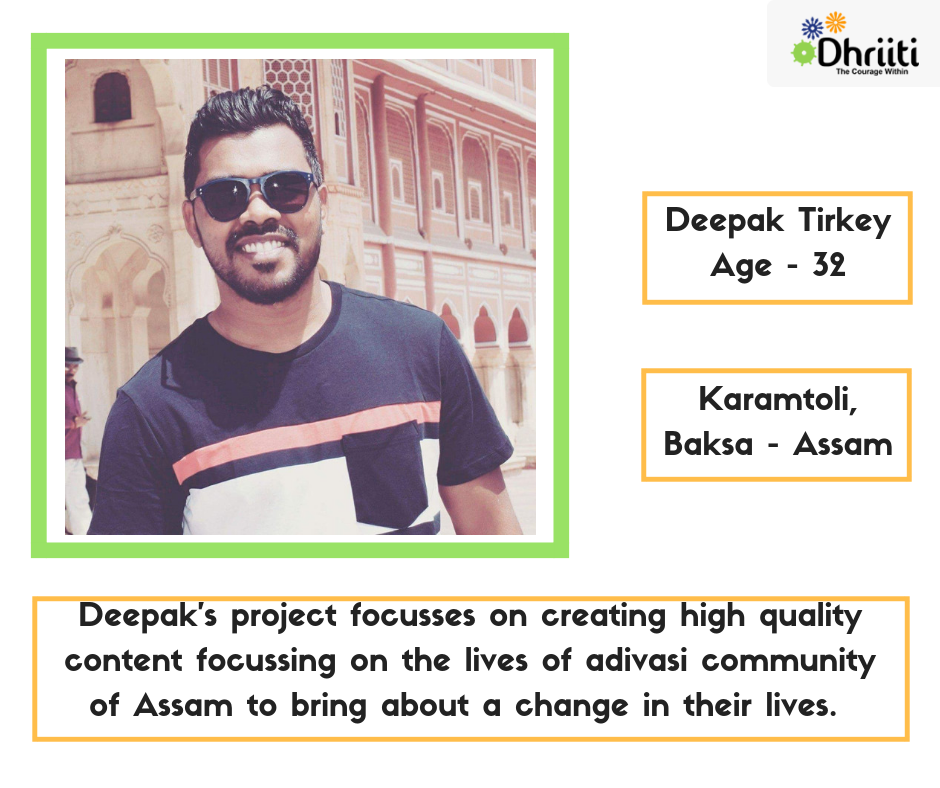 Deepak comes from the adivasi community of a small village of Baksa district of Assam. He completed his graduation from St. Anthony's College, Shillong in Mass Communication and Video Production. He worked for 6 years in NDTV as an associate producer. But he longed to return back to his home and produced short films in Sadri language (native) portraying the stories of this region. In this process, he started his venture Westudios, an animation and video production company that aims to create quality content focusing on the Adivasi community of Assam. The basic idea is to create and produce audio-visual regional content in the realms of the performing arts, new media art, film, television, video, animation, design, etc.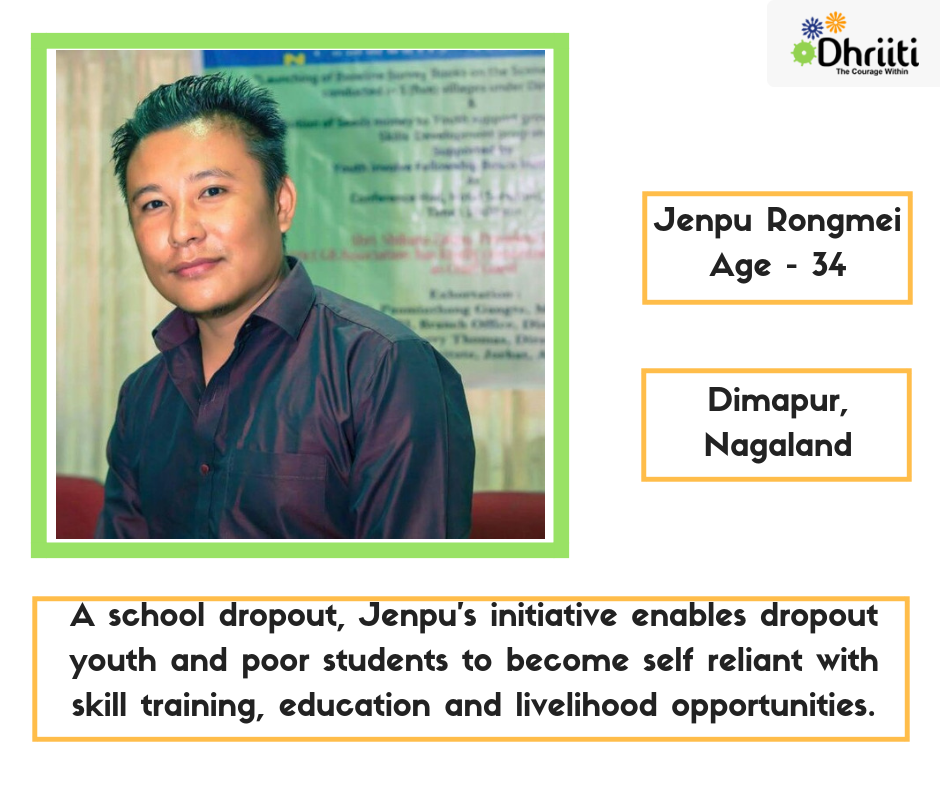 Jenpu is from Dimapur, Nagaland. Growing up, Jenpu has witnessed many hardships, which led him to the idea of 'CAN Youth'. He believes it is his social responsibility to work with the youth and children living with difficult circumstances. CAN Youth was established in 2012 with the sole aim to support the inopportune dropout youth and students from below poverty line (BPL) in Dimapur district of Nagaland. The organization is currently focusing on establishing Information and Resource Centre to provide services on education, skill, job opportunity, and entrepreneurship through various avenue and linkages for sustainability development.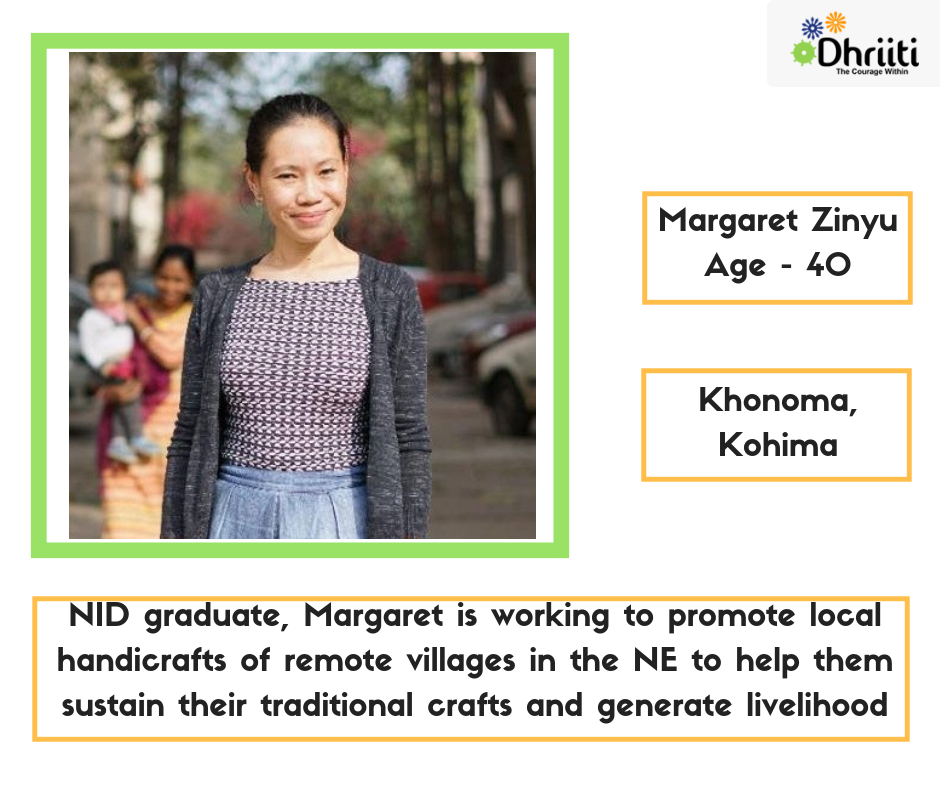 A NID Ahmedabad graduate, Margaret was always passionate about textiles. After working in the corporate sector of design for 8 years, she headed back home and decided to work in the craft industry. She set up Studio Predilection in 2015 with a belief that crafts is the second largest source of income for rural people in North East India and sustaining these skills as livelihood will create more employment generation. That way the indigenous traditions of Naga Crafts will also thrive for a better future. 'Woven Threads' is the label under Studio Predilection, which sells Handcrafted artisanal, contemporary, finesse, stylish and comfortable home furnishing products.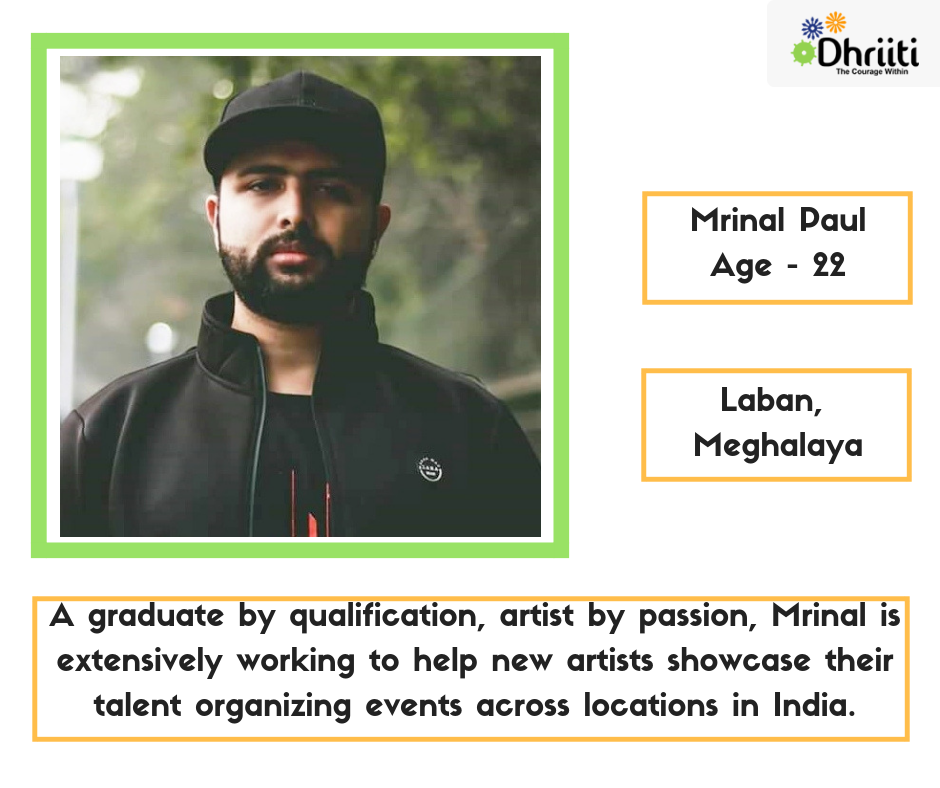 Mrinal, a graduate from Laban, Shillong, Meghalaya is an artist at heart and understands thoroughly the challenges that artists face. This led him to create an artists' collective in 2016, which today has expanded into a talent and event management entity called MOX. The talent management agency is working with talents across the North Eastern region. MOX explores talents, builds their presence digitally, and curates LIVE opportunities for them to showcase their skills. The agency aims to showcase its artists across India and South-East Asia by next year.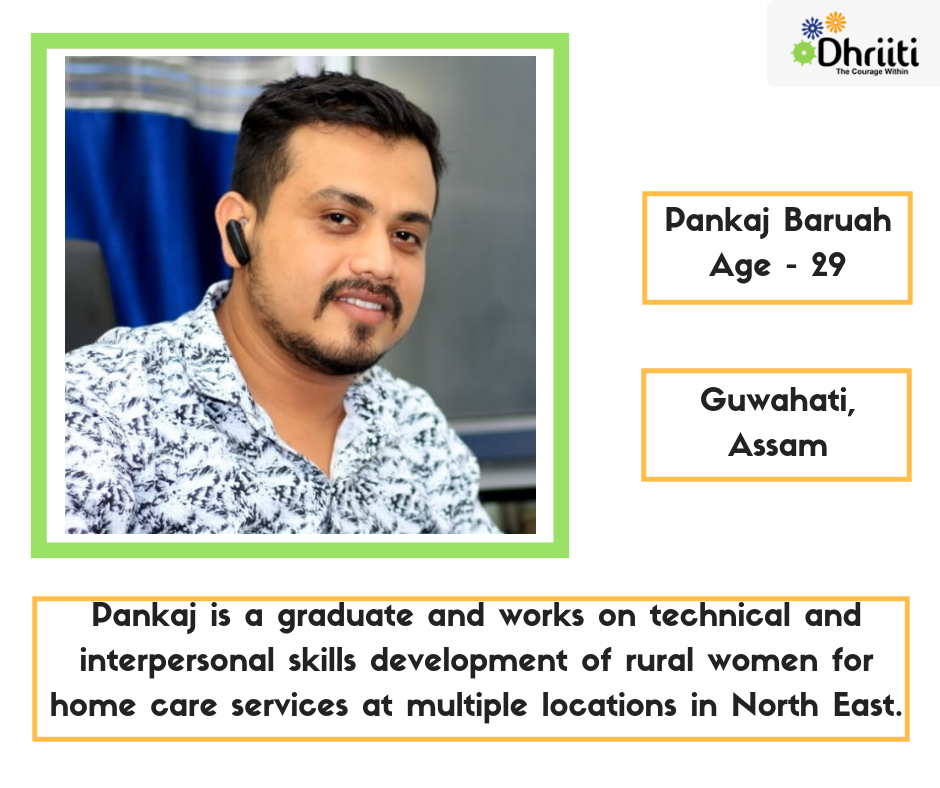 Pankaj is the Director of Maitri, a domestic service placement and management company which recruits, trains, and secures employment for women from underprivileged Northeast communities. "Sahayika" (caregiver in Hindi), the flagship program of Maitri is an initiative designed to build both the technical and interpersonal skills needed by domestic workers. The company also verifies that the prospective employer's household does not have a history of issues with domestic service workers, sets clear expectations for the nature of work, and briefs the family on the prospective Sahayika's background, skills, and employment preferences. Furthermore, Maitri takes this time to educate each Sahayika on her employee rights including a regular salary, paid leave, a bank account, and other benefits enjoyed by her service sector counterparts.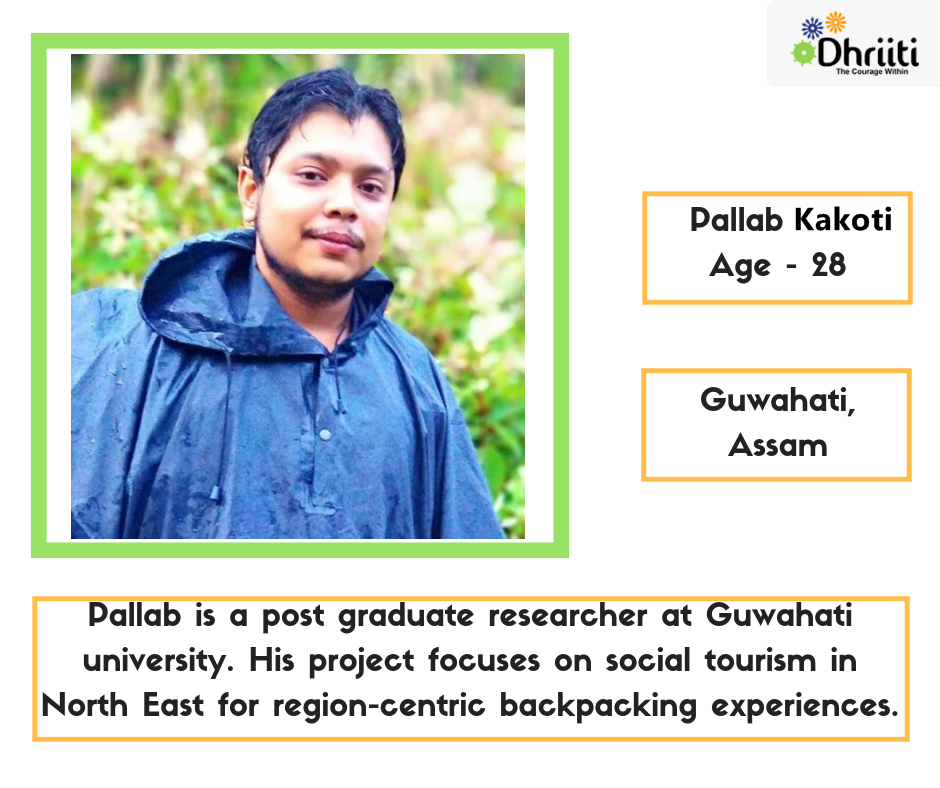 Pallab is a Post Graduate Researcher at Guwahati University. During the study of human capabilities, he realized that life is a constant pursuit of happiness. Some transcend to higher levels and associate their happiness with others. It was during a travel with his friends from abroad, who made him realize the potentiality of this region in terms of nature, resources available and the distinct yet varied culture. In 2017, he formed Eastern Wave, a community-powered tourism showcasing the culture and nature of Northeast India. Soon Pallab and his team started organizing camping trips and mainly catered to international backpackers as the company exactly offered the kind of experience these backpackers desire. Eastern Wave focusses on community-powered Tourism showcasing the Culture and Nature of Northeast India.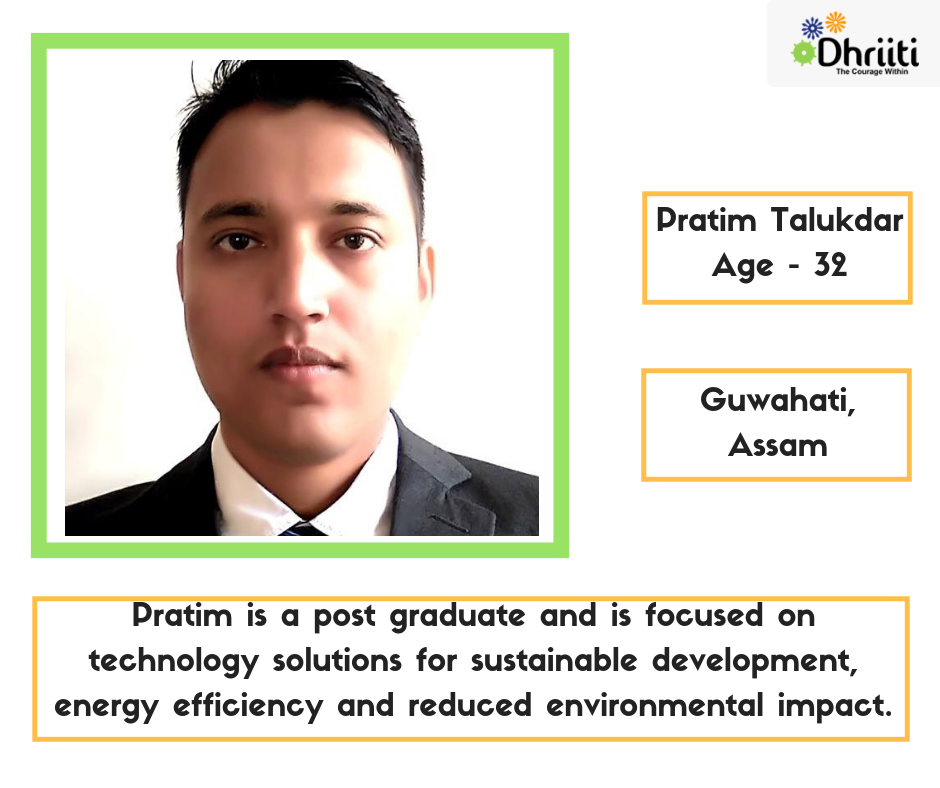 An engineering graduate, Pratim has worked in the power industry for more than 7 years. He was actively associated with the technical and commercial aspects of the power industry. During his job stint, he realized the gap in the market and started working for the possible solutions to address those gaps. In 2016, he decided to become a full-fledged entrepreneur and founded Zinzid Technologies, which works with a vision to create technology solutions for sustainable development, primarily focusing on the energy efficiency of the customers and to reduce their environmental footprints. The company provides economic benefits to the customers, besides supporting the larger environmental goals.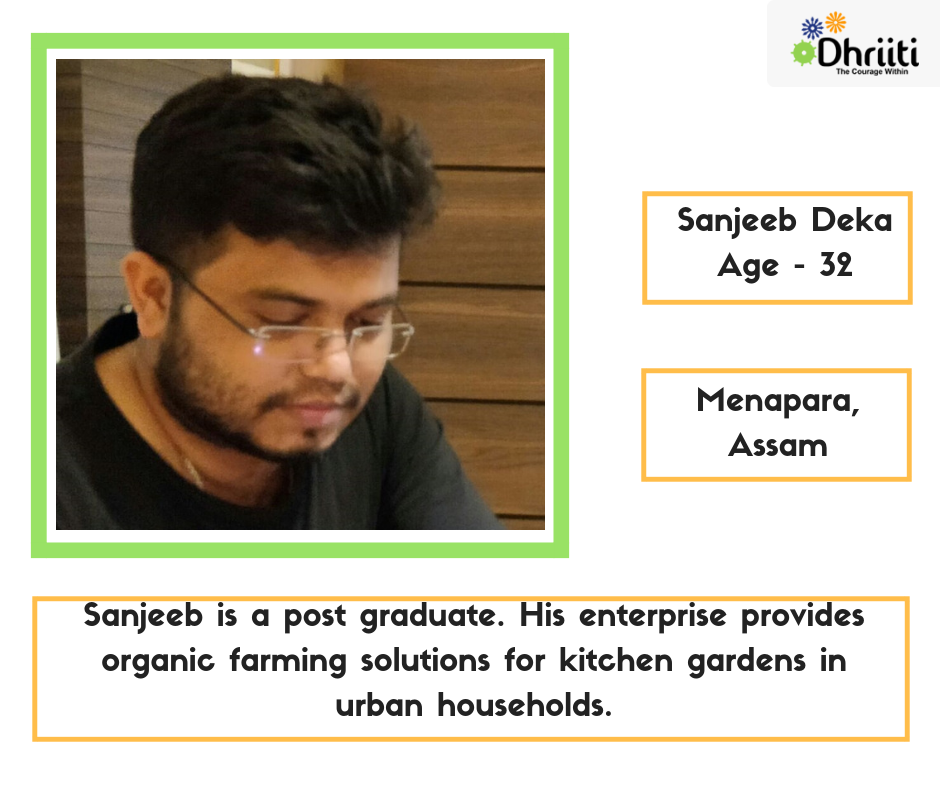 Sanjeeb comes from Menapara village of Daring district in Assam. After one of his family relatives achieved good health by using organic vegetables; he realized that organic vegetables have better nutritional value, improves health and also promoted to environmental sustainability. While working with Diya Foundation, Sanjeeb got an opportunity to practice organic farming in kitchen gardens in villages. He realized that urban households today are more inclined towards fresh organic fruits and vegetables. This idea gave birth to his venture, O-Kheti that presently sells a package of products and the services. The process is cost-effective and low-maintenance. Moreover one is aware that the best quality vegetables are being consumed by the family.
Read Blog Detail