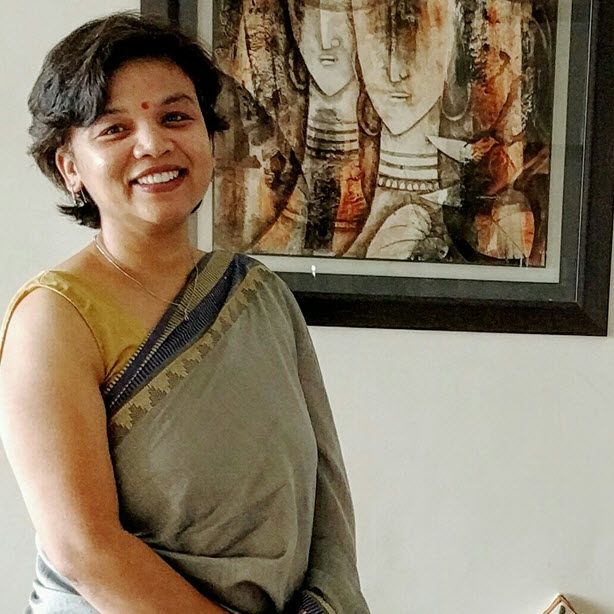 Surekha was born in an army background. Army background meant, moving from one place to another every three years traveling to some of the remotest towns of India, to some of the biggest metropolitan cities like our capital Delhi. And traveling meant, shifting her schools every three years ending up studying in all kind of schools be it public, government or convent. A new school meant to start with new set of friends, new set of teachers, new curriculum and new methods of teaching. Every movement converted the excitement of change and fun into a challenge because she found it difficult to adjust to changing teaching methodology of new teachers.
An observer as a kid, who would learn more from the day to day happenings rather from inanimate books and the knowledge rattled out by teachers, she traversed through K-12 to graduate as an MBA only to find it was not what she was aspiring for.
Her formal education had not been able to satisfy her soul. There was always a missing link. After working for a few years in the corporate structure, the dissatisfaction became bigger between the learning's of school and real life.
It is at this juncture of life she felt the need to find out what is it that differentiates the education aboard from ours and moved on to pursue MS in Non Profit Leadership University of Pennsylvania, an Ivy League school in USA.
The hands on training environment on why a particular problem needs to solved and the ways and means to solve it, satisfied her childhood quest of what's the real objective of education and how if used in a particular way can solve major problems of the world. As a part of the program she did her research on the HR systems of the World Food Program, which later became a monograph called "History of Present' Human Resource Crisis at World Food Programme".
UPenn made her acutely aware of the crass fallacies prevalent in our education systems which were simply playing with the lives of upcoming generations leaving them to fend for themselves after wasting their twelve fertile years in close classrooms.
Surekha started an organization named ELNA -Experiential Learning through Nature Based Activities.
It was mainly based on the hypothesis that a social problems could be effectively exploited via live social projects to bring out the underlying academic concepts covered under various subjects like EVS, Math, Social Studies, Languages, Arts etc.
The above idea was executed under the flagship program of ELNA known as Dastak which targeted more than thirty schools pan India.
While conducting Dastak in rural and urban schools, emerged the idea that core of learning was attached to thinking skills which could be developed by integrating art and drama with academics.
Having conducted Dastak in multiple cities successfully for three consecutive years she arrived at the conclusion that effective learning could be made possible only through effective lesson planning and its execution. This gave birth to eShikshaChaupal, a Teachers Touchstone Pvt Ltd software
eShikshaChaupal is a unique technology driven interface facilitating educators to transform classroom learning into lasting experience.
It is an free online platform for the teaching community giving the members an opportunity to extend and enhance the spectrum of their teaching learning activities by connecting with the other members and sharing their experiences via a content library available to all the stake holders which include parents and students. It's completely free to access content library. In next three months EShikshaChaupal will be rolling out the beta version of its paid software a monitoring and evaluation tool and are looking at selling it to minimum 15 schools before the year closes.
In this whole journey, Surekha was supported unconditionally by her family, but it was her mother Savitri Waldia who has been her anchored in her entrepreneurial journey. It is her mother who she Iooks up to when she is in a fix. Seeing her dedication and her passion, soon her friends Shubhangi Mishra and Sonia Mathur joined her in developing eShikshaChuapal. She believes her team is her biggest strength because without them eShikshaChaupal would not have been born.
#WECanIndia Program by Dhriiti-The Courage Within and Cherie Blair Foundation for Women has helped Surekha crystallize the market of EShikshaChaupal. To quote her" These five months have been just beautiful. We Can happened to us at that time when my team and I were struggling with just the development of the software. We Can has been a catalysts which we needed desperately to structure our own thoughts, our finances, our reach, promotion and all those expertise which an entrepreneur needs to roll out the product at the right time. A mentor helps you to structure the ideas and also guides you to make use of all the opportunities that come along the way. That's what you are to us, a very strong pillar of support which we need right now at the fag end of the pdt development and its launch."
Read Blog Detail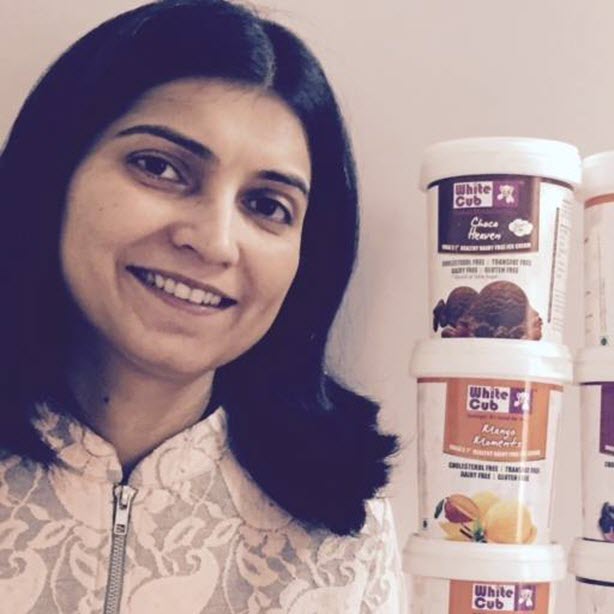 Sonal grew up having dairy farms often situated at an arms distance. She would frequently visit these farms, to have a sneak peak. Infact she loved being around animals. Although being excellent in her studies, Sonal always was drawn towards animals.
But Sonal distinctly remembers, some days would be marked with a lot of noise from these dairies. These were the days when the baby calf was getting separated from their mothers. The noises that she was unable to fathom in those young years, became much clearer later as she grew up.
Sonal soon realised that, cows like humans produce milk for their newly born children. This is the natural intent. They are mammals and the sole purpose is to feed and nourish their young. Sonal also realised that cows must give birth in order to produce milk. But in order to give birth a cow must first be pregnant, and in order for a cow to become pregnant, she must be impregnated. To keep the dairy flow steady often a cow is artificially impregnated which again is very painful. So after the dairy cow gives birth, she has no time with her child.
As days passed by, observing this cruelty since childhood and having watched Heads and Tails program on television by Maneka Gandhi empathy towards animals grew stronger. Sonal was gradually getting averse towards milk and dairy products.
Sonal soon joined college in Delhi and went on to become a Gold Medallist in Delhi University, specialising in Anthropology. In college, Sonal kept her passion for animal welfare alive. She started volunteering for organisations like People For Animals headed by Maneka Gandhi. She also tried to abstain from milk and other dairy products. But soon gave in, due to subtle cajoling by friends and family.
Soon Sonal got married and she moved on to London with her family. Although she has been an active proponent of Veganism over the past many years through different formats, it is in London that she took the decision at the personal level to become a Vegan and encourage many more people to adopt Veganism.
In 2013, after returning back to India, Sonal launched her company Compassionate Choices Pvt.Ltd, after propagating the goodness of what she calls Compassionate Food Choices ! In the Company, Sonal produces and markets dairy free icecreams under the brand name White Cub. WhiteCub DairyFree IceCreams are creamy-fruity-chocolatey healthy 'icecreams'. Sonal started producing this to the address the need of icrecreams for the consumers in the Indian market who are looking for DairyFree and Healthy alternatives. WhiteCub is India's 1st Cholesterol Free ,TransFat Free and GlutenFree certified DairyFree IceCreams .
Besides, directly serving consumers suffering from Dairy Allergy, Lactose Intolerance, GlutenAllergy, White Cub is a real treat for people following CfGf diet.
White Cub opened its first parlour in Gurgaon in 2013. But due to huge rents she shut it down. In 2015, Sonal launched WhiteCub in the Retail market. Today White Cub tubs are readily available in Delhi, Mumbai, Bangalore and now in Chennai.
WE Can India has helped Sonal to work on her financials.
To quote her,
" On one hand, WE Can India has given me a platform to network and on the other hand has empowered me with confidence to be more aware of my numbers and delve deeper in the financial figures of the business".
Read Blog Detail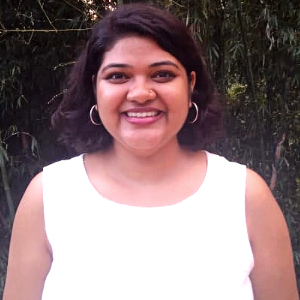 Akshya is a 23 years young, vivacious girl completing her Masters. But what differentiates her from other college students, is that she is already an entrepreneur. "Silpakarman" took birth in the year 2015, when Akshya had just completed her gradution. Since she was a little girl, Akshya has always wanted to do something of her own and was fascinated by all the sari and accessories stored in her mothers closet. So after completing her graduation, when she started exploring about her venture, she found her calling in her childhood memory. She then decided to turn her mothers passion, into her business.
Silpakarman is one stop shop for luxury- handcrafted products of India and focuses in positioning bamboo handcrafted products as luxury items. Akshya strongly believes in making a very unique experience for a each customer and she wants every purchase to be a happy and responsible one. She believes that as Silpakarman grows, her artisans in Tripura should also grow, in terms of finances, quality of life and better accessibility to resources.
When Akshya joined the WE Can India Program, she was already running her business. But it is in this program she gained clarity on her business, learnt the ropes of drafting her business plan and financials. She also learnt the marketing techniques and ways to implement better. Towards the end of her Mentoring calls, Akshya had already chalked out her road map and started acting on it. So when we asked how she feels about the program, she happily says that
"WE Can India Program is like an aircraft which refuses to land. I took off on the very first day of the workshop and with each step and experience and activity I only reached higher. My business has also shifted gears after the workshop And I truly believe it's only going to get better. I have already reached the sky, now I am chasing the stars."
Akshya Shree is also from Cohort 1.0 of Project Her&Now
Read Blog Detail